Pastor Charlie Muller, of Victory Church in Albany, visited St. Peter's Hospital today with several members of his parish family, delivering more than 400 of what he called "quarantine bags" for the children of front-line health care workers.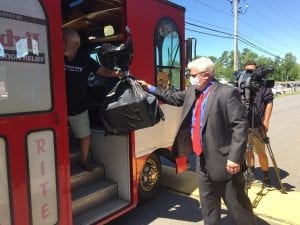 The bags were delivered in a cargo van and the church's trolley, each bag filled with gifts, crafts, sports equipment, games, and snacks to help support the children of St. Peter's Hospital health care workers, many of whom have been home from school since March due to the COVID-19 pandemic. The bags were packed for kids both young and old, with items selected to cover a range from two to 17 years of age, including basketballs, walkie talkies, binoculars, and scientific discovery kits.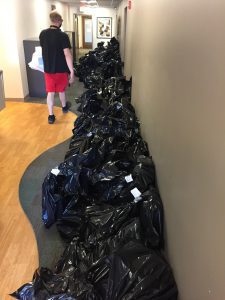 "We've been preparing these bags for two months," said Pastor Muller, adding "We really wanted to give back to St. Peter's." He noted that St. Peter's Health Partners has been supportive of his ministry in the past – including a donation of $10,000 in 2017 from SPHP staff to his Gifts for Guns program.
Our thanks to Pastor Charlie and his team for supporting the St. Peter's Hospital family during these trying times. We are overwhelmed by and so very grateful for your generosity!